Sidebar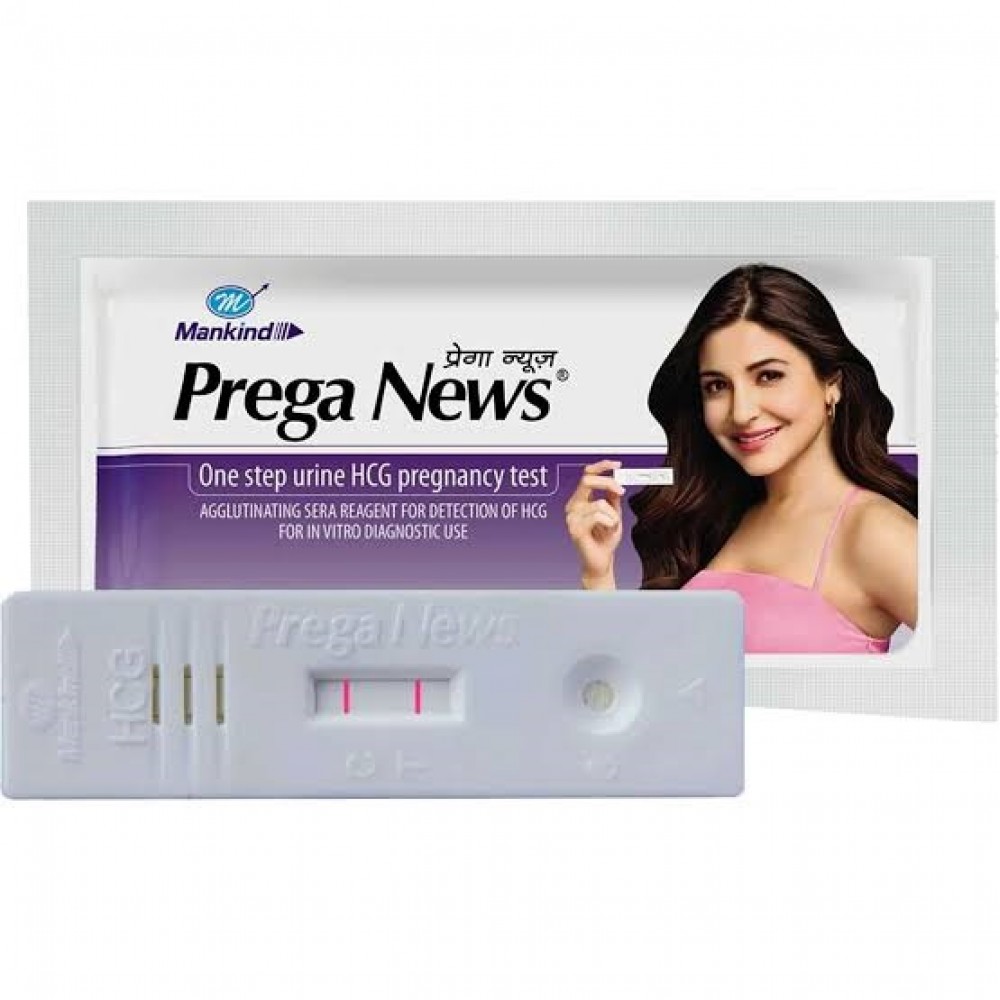 Prega News Pregnancy Test Kit
Product Description
Key Highlights Prega News Pregnancy Test Kit
The Prega News Pregnancy test kit is available at almost all pharmaceutical stores across the country as well as in online stores.
It can be purchased without a prescription but is usually recommended to be used upon the advice of a gynecologist.
The Prega News test kit provides 99% accuracy in the detection of pregnancy at home and can be a quick alternative to diagnostics lab tests.
Moreover, this test kit provides results in just 5 minutes and is very handy for women who want to test for pregnancy from the comfort of their homes.
Description Prega News Pregnancy Test Kit
The Prega News Test Kit is a quick and simple way to confirm whether you are pregnant from the comfort of your home. For couples who are trying to conceive this Prega News Kit is a perfect tool to easily get confirmation of pregnancy. With a fast 5-minute time, the pregnancy test kit from Prega News lets you check quickly when you need to know the pregnancy status.
Key Benefits of Prega News Pregnancy Test Kit
With a 99% accuracy rate, the Prega News result is correct most of the time (in some rare cases, if the test is taken too early in the pregnancy you might get a negative result, in that case, retake the test at a later date).
With as little as 3 drops of urine, a woman can quickly get a result of whether she is pregnant or not in 5 minutes.
While all tests should be confirmed by a lab test, the convenience of a home test gives you a good idea of your pregnancy status.
How to Use Prega News Pregnancy Test Kit
In the morning, collect the first urine in a clean container.

Using the dropper add a few drops into the sample well of the test kit.
Wait for 5 minutes to read the results.
If one pink line shows, it is a negative result, pregnancy is not confirmed.
If two pink lines show, it is a positive result, pregnancy is confirmed.
If one dark line and one pink line show, this means there wasn't enough HCG detected to give a result. Retake the test at a later time.
It is important to take the test before the first urine cycle of the day as this gives the most accurate results.
Uses of Prega News Pregnancy Test Kit
To determine if a woman is pregnant or not.
Interpretation of Results
If you are wondering how to know the Prega News result, then these are the steps to follow to interpret the results of this home pregnancy test:

After waiting for 5 minutes, you will need to check the Easy Read Result Window of the test device.

If you see a light pink line on the T, it means that the pregnancy hormone may not have registered enough to mark it as a pregnancy.
If you find that two prominent pink lines appear, one on the C and another on the T, then that means pregnancy is confirmed.
However, if you see just one pink line on the C, then you are not pregnant.
Storage Information of Prega News Pregnancy Test Kit
Before opening and using the Prega News Pregnancy test kit, you must store it in a cool and dry place.

Store it away from sunlight and in a place that is not too humid.
Do not keep it stored for too long as it is advised to use it immediately upon purchase.
Safety Information of Prega News Pregnancy Test Kit
Dispose of the kit after use.
Do not use the product if it is past the expiry date, as you will not get accurate results.
If you are unsure of the result, retake the test at a later date with a fresh kit.
Always confirm your results with a professional lab test.
Read the instructions carefully before using.
FAQ
Q1. What is the Prega News price for one kit?
Ans: The price for 1 Prega News kit is between Rs.50 to Rs.45.
Q2. Are the results always correct?
Ans: Home test kits are usually 99% accurate when used within 7 days of a missed period and instructions are followed. Always confirm results with a lab test.
Q3. Do I need to drink a lot of water before taking the test?
Ans: Urine that has been in the bladder for 3-4 hours has the best chance of containing the required HCG hormone. Hence, it is best to take the test in the morning with the first urine. Water can help to build up urine in the bladder.
Q4. Is there any diet before taking the test?
Ans: No, diet is not required. However, if you have any other dietary restrictions please stick to them. If you are having trouble conceiving, please check with your doctor for further advice.
Q5. How many times should I take the test?
Ans: It is recommended to take the test at least twice, leaving 2-3 days in between each test. This is in case you get a false positive on the first test.
Q6. How can we check pregnancy using Prega News?
Ans: All you need to do is collect your urine early in the morning using the dropper enclosed in the Prega News Pregnancy test kit and pour a few drops onto the Sample Well and wait for 5 minutes to know whether you are pregnant.
Q7. How soon can Prega news detect Pregnancy?
Ans: It takes approximately 5 minutes for the Prega News Pregnancy test kit to confirm a pregnancy. However, if you do not notice either a positive or a negative confirmation for pregnancy, even after 5 minutes, then it is best to retake the test with a fresh test kit.
Q8. Can I use Prega News at night?
Ans: Yes you can, but it is always advisable to use it in the morning on an empty stomach. This is because conducting a pregnancy test using the Prega News pregnancy test kit at night when on a full stomach may not give accurate results.
Q9. How do I use Prega News?
Ans: It is very simple to use the Prega News Pregnancy test kit and any layperson can use it at home without the need for specialized knowledge or skills. Simply ensure that you collect your morning's first urine sample and take 3 drops from it inside the dropper that is provided with the test kit. Then gently pour these 3 drops into the Sample Well of the testing device and wait 5 minutes for the results to show.
Q10. What is C and T in Prega News?
Ans: The C line is known as the Control line which is an indicator that the test has worked properly, while the T line or Test line is the indication of a positive result provided by the test. In case you do not see the C line, it could mean that the test has not worked and you will need to retake it. However, if you see the C line but do not see the T line, it means the test has worked and that you are not pregnant. On the other hand, if you see both the C and the T line, then it means the test has worked and also that you are pregnant. In the rare case that you see the T line but not the C line, it means that the device may be faulty.
When you order from opencartworks.com, you will receive a confirmation email. Once your order is shipped, you will be emailed the tracking information for your order's shipment. You can choose your preferred shipping method on the Order Information page during the checkout process.
The total time it takes to receive your order is shown below:
The total delivery time is calculated from the time your order is placed until the time it is delivered to you. Total delivery time is broken down into processing time and shipping time.
Processing time: The time it takes to prepare your item(s) to ship from our warehouse. This includes preparing your items, performing quality checks, and packing for shipment.
Shipping time: The time for your item(s) to tarvel from our warehouse to your destination.
Shipping from your local warehouse is significantly faster. Some charges may apply.

In addition, the transit time depends on where you're located and where your package comes from. If you want to know more information, please contact the customer service. We will settle your problem as soon as possible. Enjoy shopping!

So Extra Slider: Has no item to show!